CALL 307-366-2459


Email: bighornlodgeswy@gmail.com



Dates/Hours of Operation
Restaurant and Bar is open from 8:00 am - 8:00 pm everyday during the summer season until October 31. The winter season will start mid December.
Rustic cabins and motel lodging available year-round!
Check out the online booking for each lodge.
Rustic cabins are only accessible via snow machine during winter months.


Meadowlark Lake Lodge
4700 U.S. Highway 16 East
Ten Sleep, WY 82442

20 miles east of Ten Sleep, WY
43 miles west of Buffalo, WY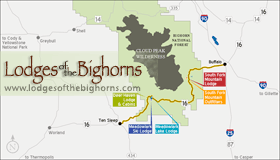 http://wyoparks.state.wy.us/index.php/home-trails/