Mountain Stream and Lake Fishing ∙ Guided Fishing Trips at South Fork Mountain Lodge or Fish on Your Own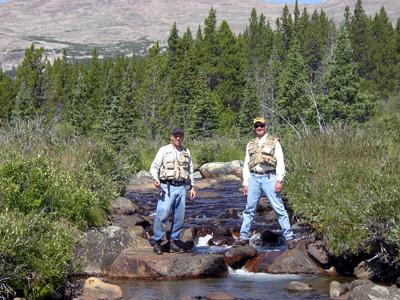 Wyoming fishing/pack trips by horseback in the beautiful Cloud Peak Wilderness Area of the Bighorn National Forest
Some of the most exciting fishing can be found in northern Wyoming's magnificent Big Horn Mountains and Bighorn National Forest. Over 200 mountain lakes and streams abound with Rainbow, Brook, Cutthroat (Native), German Brown and Golden Trout and Grayling. You can even cast your line right into the South Fork of Clear Creek for those fighting Rainbow and German Brown Trout.
Guided Fishing Trip
Fishing in the Cloud Peak Wilderness Area on one of our expertly guided pack trips or drop camps is a great way to experience some great fishing in the more remote areas of the Big Horn Mountains and Bighorn National Forest. We pack you and your personal equipment into one of our wilderness camps. Our camp has comfortable tents for shelter and a cook tent with our own cook to prepare three hearty mountain meals for you each day.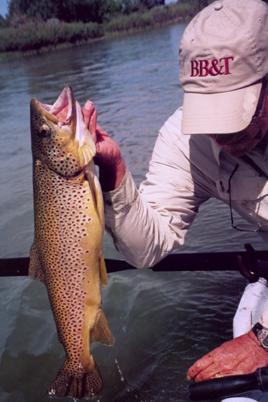 A fishing adventure can be tailored to your needs by our experienced guides and outfitters. We can take up to 10 people on each guided fishing trip. During your wilderness trip, we transport you by horseback to different mountain lakes and streams to provide you with a variety of scenery, settings and fishing experiences.
Wildlife is plentiful in the Cloud Peak Wilderness Area. Mule deer, elk and moose are frequently seen near our wilderness camps. Wildlife and spectacular scenery makes a camera a must for these trips.
Wyoming Fishing Licenses
We have Wyoming fishing licenses and conservation stamps available at the South Fork Mountain Lodge for the convenience of our guests.
We work hard to make sure your fishing trip is an experience you will long remember. Contact us today to make a reservation or to ask for more information!