WYOMING OUTFITTER #BG352
All hunts include guide, food, lodging at the South Fork Lodge, horses, electric 4 wheeler, all inclusive.
Our guides have years of experience hunting and guiding. They are very knowledgeable of the resident game in our area. Spot and Stalk techniques are used on 250,000 acres of private land.  We are friendly, and eager to help you get that trophy animal you are after.
Our goal at South Fork Mountain Outfitters is to provide you with a  quality hunting experience that you deserve.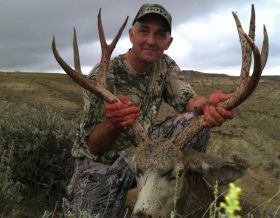 Elk and Moose hunts are 7 days. Deer & Deer/Antelope combo hunts are 4 days. Antelope hunts are 3 days.  References are available upon request. 
TRANSPORTATION: There is a $200 fee for  transportation from the Gillette, WY airport (1.5 hrs) and a $250 fee from the Casper, WY airport (2 hrs).
Additional person $150/day. Bring your spouse, they can spend the day relaxing along the stream, enjoying the fresh mountain air or tagging along and enjoying the views of the Big Horn Mountains.