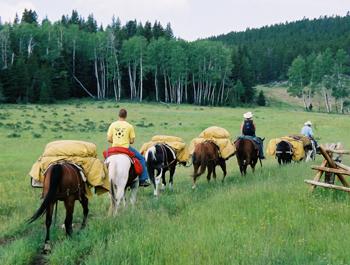 Southfork Mountain Lodge and Outfitters can provide you and your family or group with fully-outfitted pack or drop trips into the Cloud Peak Wilderness Area of the Big Horn Mountains and Bighorn National Forest.
We have our own wilderness camp in the Cloud Peak Wilderness Area where you can relax in the clean, quiet mountain air and surroundings. Wildlife viewing is spectacular and the scenery is magnificent, so be sure to bring a camera!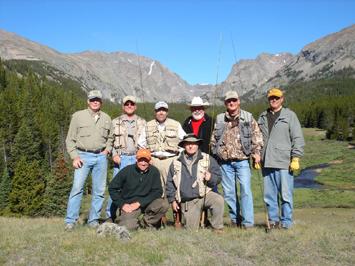 Trout fishing is spectacular in the many mountain lakes and streams in the Big Horns. You can obtain fishing licenses as well as a wide variety of fishing tackle and supplies in local sporting goods stores around the area.
Our licensed, experienced guides and fine quality horses will take you on a horseback trip that you will long remember. Our wilderness camp is complete with tents for sleeping, cooking and dining. We serve hearty western mountain cuisine in our camp prepared and served by our own cook. Guests need only bring their sleeping bag, personal gear and fishing equipment.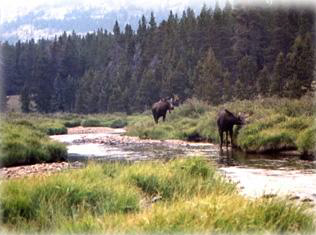 If you wish to have your own camp, we are fully equipped to pack you, your equipment and your supplies into the Wilderness Area for you on the dates you select. We will be glad to assist you in planning your trip. Drop camps provide the outdoor enthusiast with access to the more remote areas of the region.


Drop Camp Rates
$400 per horse  Includes drop off and pick up (3 horse minimum)
50% deposit required to reserve a drop camp pack trip (non refundable)
Suggested Items To Bring On Your
Wilderness Pack Trip
Sleeping Bag (Rated to 30 degrees or lower)
Hiking or Riding Boots
Jeans (Real cowboys wear Wranglers®)
Comfortable shoes for around the camp
Clothing for cool evenings and warm days
Plenty of socks
Gloves and hat
Good rain suit or slicker (No ponchos please)
Personal toiletries including towels
Optional solar shower (small, compact and obtainable at some sporting goods stores)
Insect repellant
Camera & film
Small flashlight
Wyoming fishing license
Fishing gear - Fly or spinning rods that break down work well for packing. 4-6 pound test line on a spinning reel works best. Lures such as Jakes, Mepps, Panther Martins, etc. and flies such as Renegade, Royal Coachman, Humphies, Mosquitoes, etc. all work well. Clear bubbles will allow you to use flies with a spinning rod.

Gear should be packed in soft duffle bags.
Please try to limit your gear to 20 pounds per person or another pack horse will need to be purchased